Body Geometry Footbeds are ergonomically designed and scientifically tested to increase power, endurance, and comfort by optimizing hip, knee, and foot alignment. With three different arch support options (Red+ being the lowest, Blue++ being in the middle, and Green+++ being tallest), you can be sure that every precious watt is preserved through the pedal stroke. - Body Geometry Footbeds measurably increase power, reduce time to exhaustion, and reduce injury by aligning hip, knee, and foot. - Customized longitudinal arch and metatarsal support with Red+, Blue++, or Green+++ contour. - Proprietary lightweight foam avoids taking a compression set for long-lasting performance. - Combine Body Geometry shoes, footbeds, and wedges to maximize performance benefits.
Allows simple, removable, in-shoe adjustment to the forefoot varus/valgus angle for optimum foot, knee, and hip alignment. - Reversible shims work for right or left application - Vented for comfort - Package includes two varus shims (orange) or two valgus shims (yellow), based on selection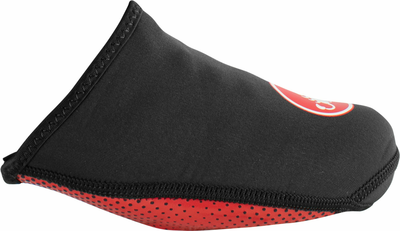 A slip-on neoprene toe cover takes away the chill. It's surprisingly effective, and you can just leave it on your shoe. - Windproof Neoprene protection for your toes - Rugged, rubberized sole with openings for cleats - Red fabric on inside - Can be worn on its own or as a layer between your shoe and shoecover - WARNING: The color of this product may transfer when wet. Avoid long term contact with light colored surfaces.